View and Download TK Products Brochures and Handouts
TK Products Color Charts
Color charts available for downloading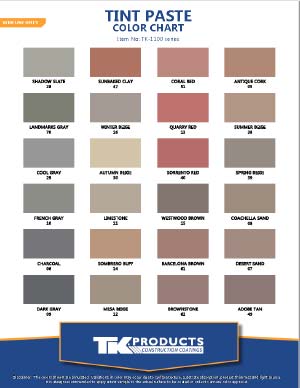 TINT PASTE COLOR CHART
Color additives specifically designed for use with TK-BRIGHT KURE & SEAL, or TK-ACHRO SEAL AS-1 1315 curing compounds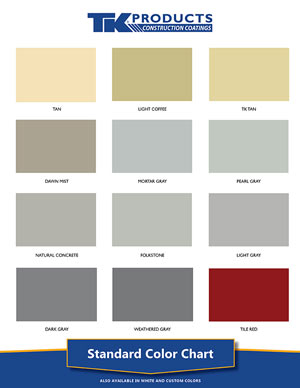 STANDARD COLOR CHART
A chart showcasing our "standard" color options available across all product lines.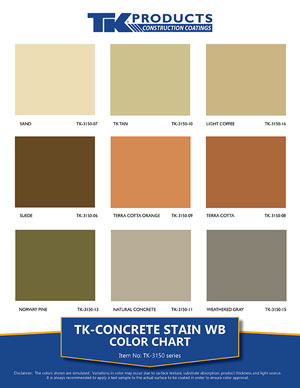 TK-CONCRETE STAIN WB 3150 COLOR CHART
A chart showcasing color options for this solid colored, paint-like finish stain.
Complete TK Products Quick Reference Guide
A quick and concise introduction to our various product lines.
Air & Vapor Barriers Product and System Brochures
CLIMATE TECH™ WEATHER RESISTANT SYSTEM HANDOUT
A concise introduction to this liquid membrane applied weather resistant system.
More Air and Vapor Barrier Product Information Downloads
---
Concrete Curing and Sealing Compounds Product Information
TODAY'S CONCRETE CURING HANDOUT
Outlines the need for a good curing compound with today's concrete formulations.
Epoxy, Polyaspartic & Urethane Coatings Application Guild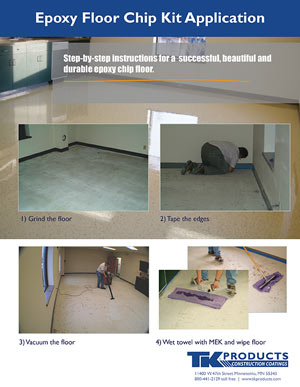 EPOXY FLOOR CHIP KIT APPLICATION GUIDE
A quick guide outlining the proper application methods and processes.
TK Products Concrete Hardeners & Densifiers Information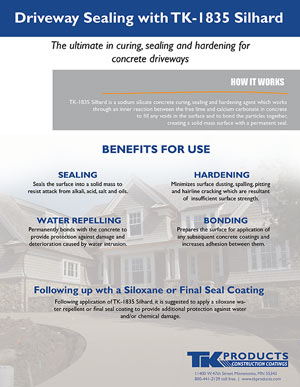 DRIVEWAY SEALING WITH TK-SILHARD 1835
Introduction to the benefits of using a hardener/densifier on concrete driveways.
Water Repellent Product Information
Waterproofing & Dampproofing Product Handout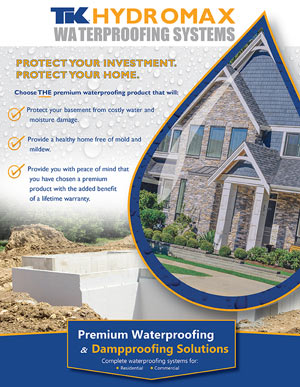 TK-HYDROMAX® SYSTEM HANDOUT
Introduction to the HYDROMAX® Waterproofing & Dampproofing product line.
Other Products Sale Sheets
TK Products Technical Bulletins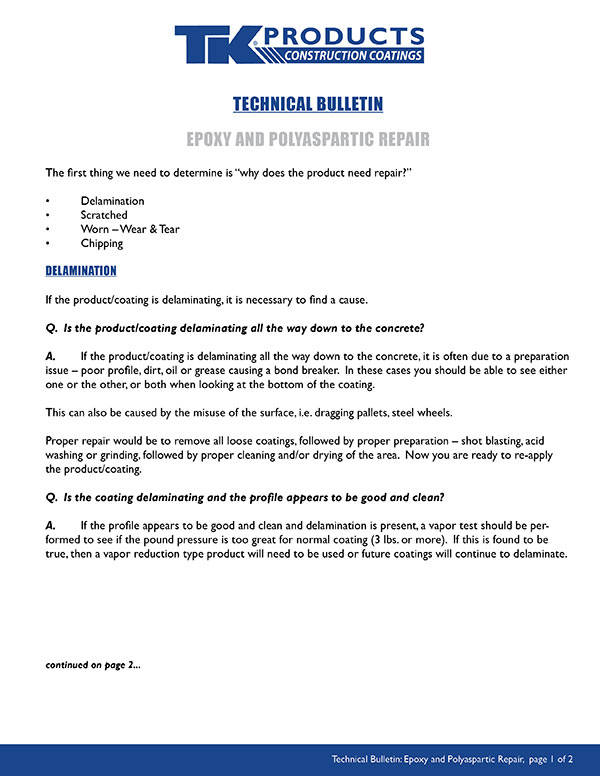 EPOXY AND POLYASPARTIC COATING REPAIR
A quick guide to epoxy/polyaspartic coating maintenance and repair.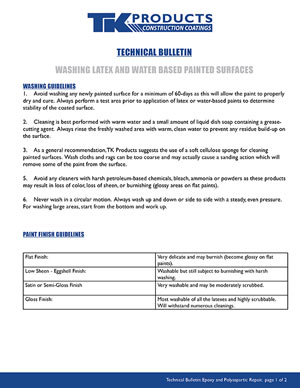 WASHING LATEX AND WATER-BASED PAINTED SURFACES
A quick guide to maintenance and cleaning of painted surfaces.