Commercial Anti-Graffiti Products
---
TK Products offer two kinds of financially and physically manageable solutions to chronic graffiti problems. Wherever community residents land on the spectrum of graffiti—"fools' faces" vs "environmental art of the future"—public planners, managers and contractors agree that graffiti-removal adds another heavy layer of labor-, money- and time-draining maintenance to already-overburdened facility upkeep. TK Products give two kinds of low-VOC protection against chronic graffiti problems: a surface coating for masonry block and other porous concretes, and a penetrating repellent for harder, denser concrete surfaces and structures. Both product lines reduce the visual assault on those spending time in parking facilities, transportation hubs, public plazas and recreation areas, while also helping to preserve the physical integrity of large, heavily-used essential community structures and spaces.
TK BLOCK AND GRAFFITI GUARD VOC 5220 is a clear silicone elastomer, designed to protect porous concrete surfaces from both harsh weather damage and graffiti vandalism. One or more spray-, roller- or brush-coats seal up surface porosity, reducing graffiti adhesion and making it easy to remove with clear water and compatible cleaners.
TK-PERMACLEAN VOC ANTI-GRAFFITI COATING repels graffiti head-on with a specialized blend of aliphatic urethane resins. Designed to protect harder, denser surfaces, it qualifies as a permanent, non-sacrificial coating. A related primer reduces yellowing or darkening capacities.
Look at TK solutions when your department spends more time discussing overpasses and sound barriers than the roads they shelter; building-walls than the schools, parks and playgrounds they overlook; and the structures where public transportation stops more than where you can go. Graffiti artists may have all the time in the world, but you and your residents don't. When graffiti loses, your whole community wins.
Anti-Graffiti Coating Products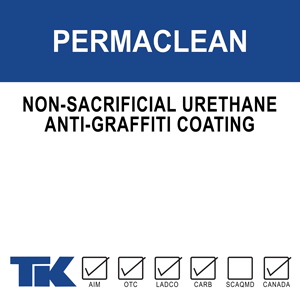 TK-PERMACLEAN VOC ANTI-GRAFFITI COATING
Item No.: TK-1495 VOC gloss/TK-1496 VOC matte
Features a unique blend of aliphatic urethane resins specifically formulated to protect surfaces from graffiti vandalism. Substances such as spray paint, lipstick, nail polish, marker and multiple component paint products will not adhere to the PERMACLEAN treated surface, making their removal faster and easier. Available in both gloss (TK-1495 PERMACLEAN VOC) and matte (TK-1496 PERMACLEAN VOC) finish "VOC" formulation meets VOC content requirements.
Features:
• Can withstand numerous cleansing – no recoating is necessary following removal of graffiti substances.
• Harsh solvents, power washing and graffiti removal agents will not harm the coating or affect its performance.
• Single-component.
• Non-Yellowing.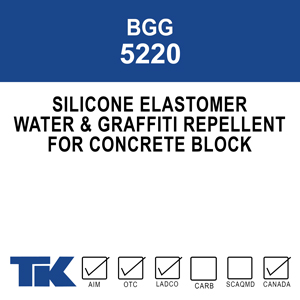 TK-BLOCK AND GRAFFITI GUARD VOC 5220
Item No.: TK-5220 VOC
A clear, silicone elastomer, water and graffiti resistant coating for protecting concrete block and other porous masonry surfaces. It provides excellent performance against damaging effects of water and weather, while also providing defense against graffiti and vandalism substances.
Features:
• Protects against exterior elements such as rain, sun and temperature extremes.
• Resists efflorescence and stains from moisture and mildew.
• Prevents penetration of most types of graffiti and provides quick and easy removal of these substances.
• Allows the surface to breathe and does not trap moisture.
Anti-Graffiti Primer Products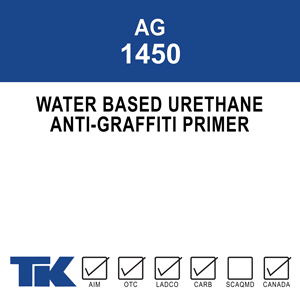 TK-ANTI-GRAFFITI PRIMER 1450
Item No.: TK-1450
A water-based urethane prime coat for use under TK-PERMACLEAN VOC ANTI-GRAFFITI COATING to reduce/eliminate the surface darkening or color change that occurs when applied over concrete and masonry.
Features:
• Protects the surface from darkening or color change due to the application of anti-graffiti products.
• Reduces or eliminates pigment bleeding.
• Excellent resistance to weathering, including humidity.